This integration allows you to import your Sage 300 Construction and Real Estate projects to Clearstory
Sage 300 Construction and Real Estate Integration Setup
Overview
Sage 300 Construction and Real Estate (CRE) is a construction ERP and project management/ financial software used by many construction companies around the world. The product tracks project budgets and enables project teams to track changes and commit them to the overall budget once the change is approved.
The Clearstory Sage 300 CRE integration enables Clearstory users to use Sage 300 CRE as a single source of truth for projects. The Clearstory Sage 300 CRE integration imports projects from Sage 300 CRE and makes them available to Clearstory users. Clearstory users can manage CORs and track correspondence around approval for all of the projects available to them in Sage 300 CRE.
The Clearstory Sage 300 CRE integration does not write any of the details of the COR in Clearstory back to the Sage 300 CRE system. Customers must create their own process to transfer the approved CORs from Clearstory to Sage 300 CRE. This limitation is based on the capabilities available for integration with Sage 300 CRE; not a limitation of Clearstory.
How It Works
Clearstory users who have the Sage 300 CRE integration are able to create projects in Clearstory using data pulled from their Sage 300 CRE jobs. This enables Clearstory users to not have to spend time recreating projects in Clearstory ,instead Sage 300 CRE can serve as the single source for all Jobs in your organization.
When configured in your account, an additional Imported Projects tab will be visible. Select the Imported Projects tab to see a list of jobs that are available in your Sage 300 CRE system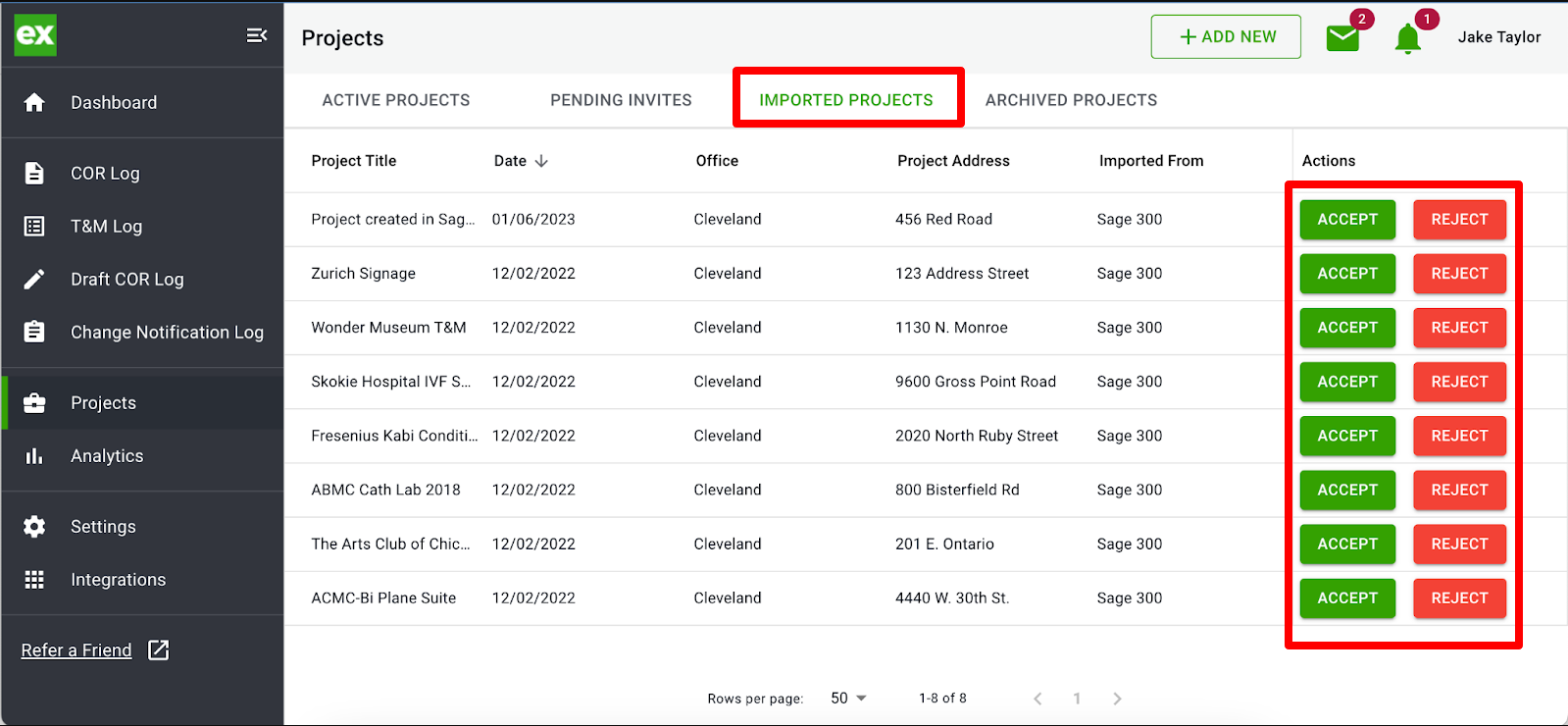 Clicking the Accept button adds the project to your Active Projects tab. Clicking the Reject button will remove the project from your Imported Projects list.
If you have the Sage 300 CRE integration configured for multiple offices you will need to specify the office to which the project belongs before you can click the Accept button.
TECHNICAL NOTE: Sage 300 CRE does not require jobs to have an address, however, this is a required field for Clearstory. The imported Projects tab in Clearstory only lists jobs from Sage 300 CRE that have an address. If your job in Sage 300 CRE does not have an address, you will first need to update the address in Sage 300 CRE before you import it into Clearstory.
Sage 300 CRE Integration Setup
Sage 300 CRE is a client-server product and there are no modern APIs available to interact with it like other systems such as Procore, CMiC, or Autodesk Build. Instead, the Clearstory integration with Sage 300 CRE requires some additional software between Clearstory and a customer's Sage 300 CRE system for the integration to work. Extracker has partnered with HH2 to deliver the Clearstory integration with Sage 300 CRE. HH2 provides a client application that must be installed within a customer's environment. This client provides an API for Clearstory to access and interact with for this integration.
To setup the Integration, please contact us at support@clearstory.build