Clearstory allows you to choose what columns are displayed in your COR Log, as well as the columns exported from your Log to Excel, CSV, PDF, or our shareable link
Managing Columns on the COR Log
Customize which columns show up on your COR log by project, or for all projects. Either customize each project individually, or save a column "template" that you can quickly apply to any project.
To set your columns, go to Manage Log => Customize Columns:
You can then choose which columns will display for all Projects, or drill into the specific Project to customize. Once you have the columns set, click "Save"
Or, if you have a layout you want to use on multiple Projects, click "Add New Template", choose a name, and then choose your column layout. Finally click "Save As New Template". Now you can use that template on any other projects with a few clicks so you don't have to customize each manually.
Templates are shared across users, so you will see templates that other users have created on the projects you have access to. This helps a project team be able to use the same view.
Once you have saved your column views, when you filter your COR log by that project, your columns will adjust automatically. If you remove your Project filters, the columns will change back to your "All Projects" view
Managing Columns on your exports
Similar to the column management on your COR log, you can also customize the columns and order of columns that are displayed in your exports and shareable COR link. The export settings are specific to each user and project, so what one user sets.
When you go to export or share your COR log, you are given a similar column management screen: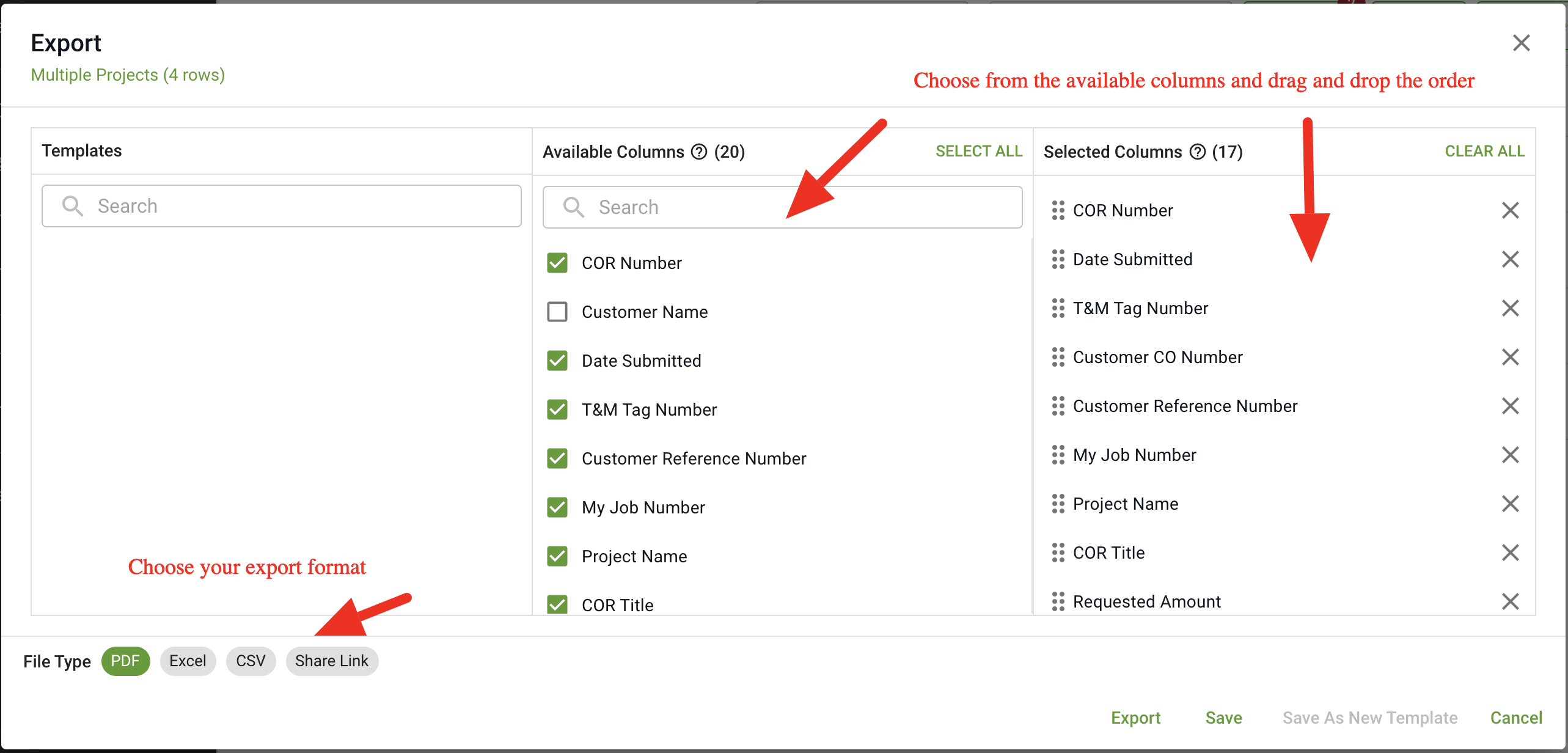 Once you set your columns and the file type (NOTE you have to choose a project in the COR filters to use the share link), you can choose to either just Export your selection, or to Save your selection. If you Save, the next time you come back to export for that project or projects, it will remember your column settings
Additionally, you can create a new export template, so that if you want to quickly change the export columns, you can apply the template.