If you are doing a repetitive or similar scope of work and creating a new T&M Tag each day, you will want to use our create a copy feature. Here is how it works.
You can either copy a tag from the mobile app or the website. In both cases the Project, Title, Description, Reference Number, and Items will all be copied.
From the website, navigate to your T&M Log. Click on "More" for the Tag you'd like to copy and choose "Copy Tag":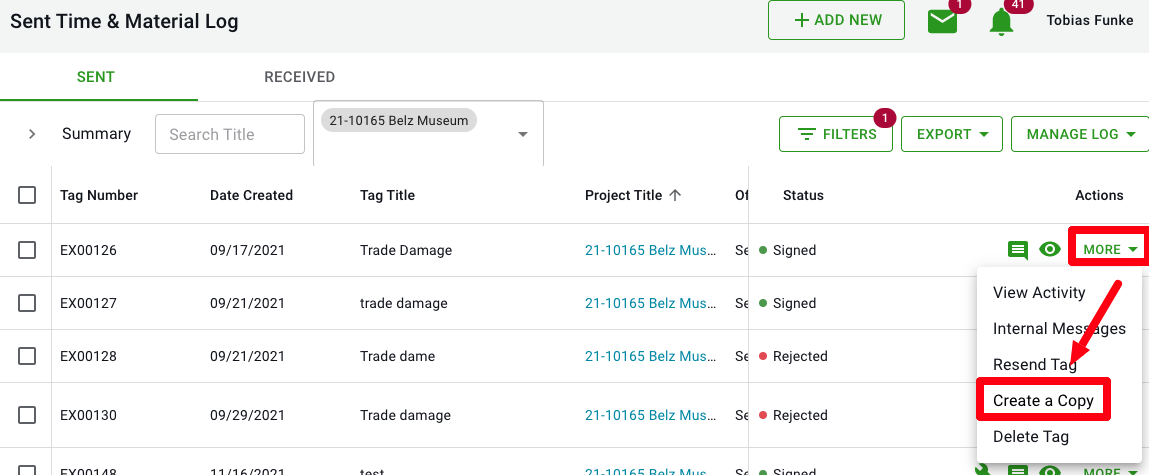 From the mobile app:
First download and log in to the Clearstory mobile app.
Go to the Sent T&M Log where it lists all of the Tags you have created.
Find the one you want to create a copy of and click on the three dots to the right
Click "Copy Tag" and instantly a digital copy of that T&M Tag will be created.

We note the word copy in the title so you can clearly tell it apart from the original, so make you edit the title.

Once the copy is created, simply update the details and send off a signature request.
No more data entry!